Excel Quality Tools
Background
Q2 Management Development runs his own development in quality supporting software. This type of program is designed to support education and training concepts and as a complement to Q2's range of services.
In the competitive world where prices are constantly squeezed while demands for products increases, we see a great need for a long term and strategic development of skills. Time and resources are too valuable in the business. With extensive experience in this area and a general conceptual platform, we can provide support and help to create the foundation for an efficient operation, which in the long run leads to high satisfaction for the customer.
Description
The program files are built in Excel format, and therefore provide an opportunity through the easy handling to delegate active quality assurance activities down to the operational level. This creates in addition to increased understanding even participation in this important process.
Structure
Through the international interest that many companies around the world has shown, all files are adapted to multiple languages.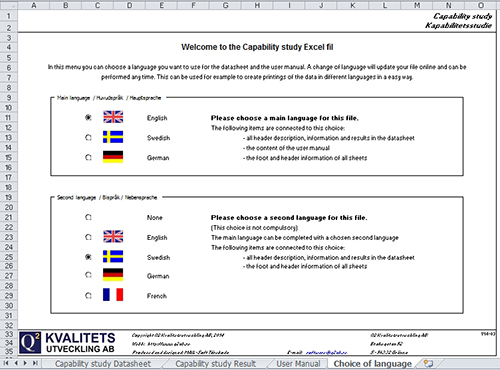 A Quality Tool Excel file typically contains four types of sheets (Discrepancies may exist):
- XXX Datasheet: This requires data entry
- XXX Result: Displays the results in adapted format
- User Manual: An user description of the tool
- Choice of language: Sets the language settings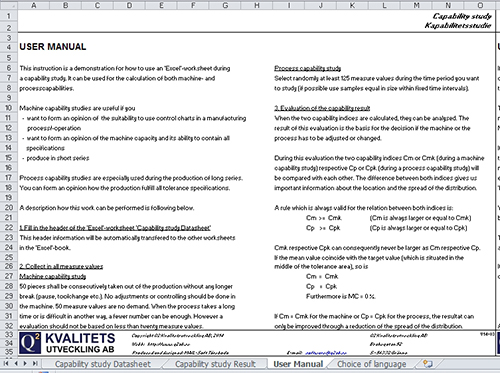 Pricelist (all prices excl. VAT)
| | |
| --- | --- |
| Capability study | 2.000 SEK |
| Xbar-R Diagram | 2.000 SEK |
| Design and Process FMEA | 1.750 SEK |
| Design of Experiments | 2.000 SEK |
| Gauge R&R | 2.000 SEK |
| Measurement System Analysis MSA | 2.000 SEK |
| | |
| Total Package | 10.000 SEK |
Own logotype
Interested companies have the opportunity at a possible purchase of the files to have them delivered with its own logotype.
The cost of this customization is 200 SEK for each tool or 1.000 SEK for the whole package.
Conditions of Delivery
The delivery of the software will be done via email. The delivery time is between 1-2 weeks after the order, depending on the extent of customization.
Conditions of Payment
Payment terms are 30 days, net.
Ordering
To order Excel Quality Tools please use the electronic order form.

The copyright of the Excel files is owned by Q2 Management Development AB. It is impermissible to copy, modify, distribute, promote or sell multiple or single files, unless written permission has been given from Q2 Management Development AB.

The Excel files are designed and developed by Q2 Management Development AB.